Live Music
Sunday Blues Sessions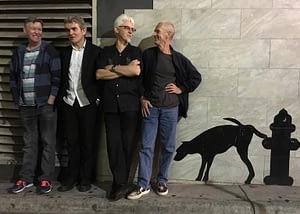 If you love live music be sure to join us on the first Sunday of the month for Sunday Blues Session with The Colonel's Blues Jam!  Enjoy our hospitality from 1pm, music and dancing from 2pm. Our usual bar menu will be available for purchase. To confirm the next event please check the bands' Facebook page below.
Wine Tastings
Hosted by Steve Hazlett
Baedeker's Wine Tastings are an informative, fun and educational wine tasting held in The Cellar between 6.30pm – 8.30pm.
Your $40 ticket gets you a tasting of all wine and a cheese plate. Wines from each session are available for purchase by the glass and bottle, or to take home (with a 15% discount). Attendees receive exclusive offers/discounts on future retail promotions and wine events.
2021 dates sold out.
Ticketed Events
Looking for something else? 
No worries, we've got an event for everyone.  We often play host to cocktail and whiskey tastings, immersive theatre, speed dating, trivia nights and more. Visit the Eventbrite link below to find out who is hosting an event with us next.
If you'd like to host your own ticketed event with us, please contact our venue manager Steve to discuss your needs.
Tim
Worth checking out
Do not walk past this little hidden gem!  Its quaint, cosy seating areas are perfect for a night cap or a few quiet drinks with close friends.  The bar staff are very personable and know their trade. This is one of Brisbane's best kept secrets.
Eliza
Love the atmosphere
Always love the atmosphere at this place, it's so special & takes you out of ordinary life. I loved being a party of two wedding events here!
Louisa
Amazing bar. Love the atmosphere.
Amazing bar and excellent wine list. Recently experienced the private dining space which is just fab and the food was outstanding! Looking forward to having a few more drinks and events here in future!
Sarah
Love this place
Came across it purely by accident but then some say everything happens for a reason. The atmosphere is warm and welcoming, the wine selection is fab and Steve is a wonderful host! Do yourself a favour and pop in sometime.
Kimberley
Amazing atmosphere
The team has created a place you can escape and just enjoy great company and amazing wine. Best place wine bar in Brisbane hands down.
Bryanna
Magical wine
The wine is magical, the port next level, the ambience unmatched, just the perfect spot to sip, enjoy and dream! Well done.